Source: flhsmv.gov
Sarasota offers Florida living at its best, with a tropical small-town feel in an urban setting with much to offer in the way of entertainment, food, and culture. With sparkling, white-sand beaches, miles of gulf coast and key islands, and year-round sunshine, Sarasota attracts retirees, young families, and students seeking to further their education at one of the city's six colleges and universities. Statistics from PODS moving company reveal Sarasota as one of the fastest-growing cities in Florida and in the U.S., with the population currently increasing at four times the national average.
While Sarasota is a destination city for many people seeking the warm climate and lush tropical beauty of a Florida beach town, it's also a hotspot for car accidents in the state. Sarasota's combination of newcomers, tourists, retirees, and inexperienced drivers from the state's student population has led to some startling crash statistics.
2022 Traffic Accident Data In Sarasota
Road safety is a paramount concern for any community, The most recent crash statistics in Sarasota reveals the following one-year data:
Total of 7,065 reported crashed
59 lives were lost due to these crashes
4,123 injuries resulting from these crashes
178 reported motorcycle crashes total of 9 motorcycle fatalities
186 incidents regarding pedestrian accidents and 9 fatalities
There were 217 bicyclist crashes and 5 lives lost
1,651 hit and run crashes
Understanding and analyzing this data is vital to identifying trends and patterns of road incidents involving vehicles, pedestrians, and cyclists.
Sarasota Accidents Over The Years (2017-2022)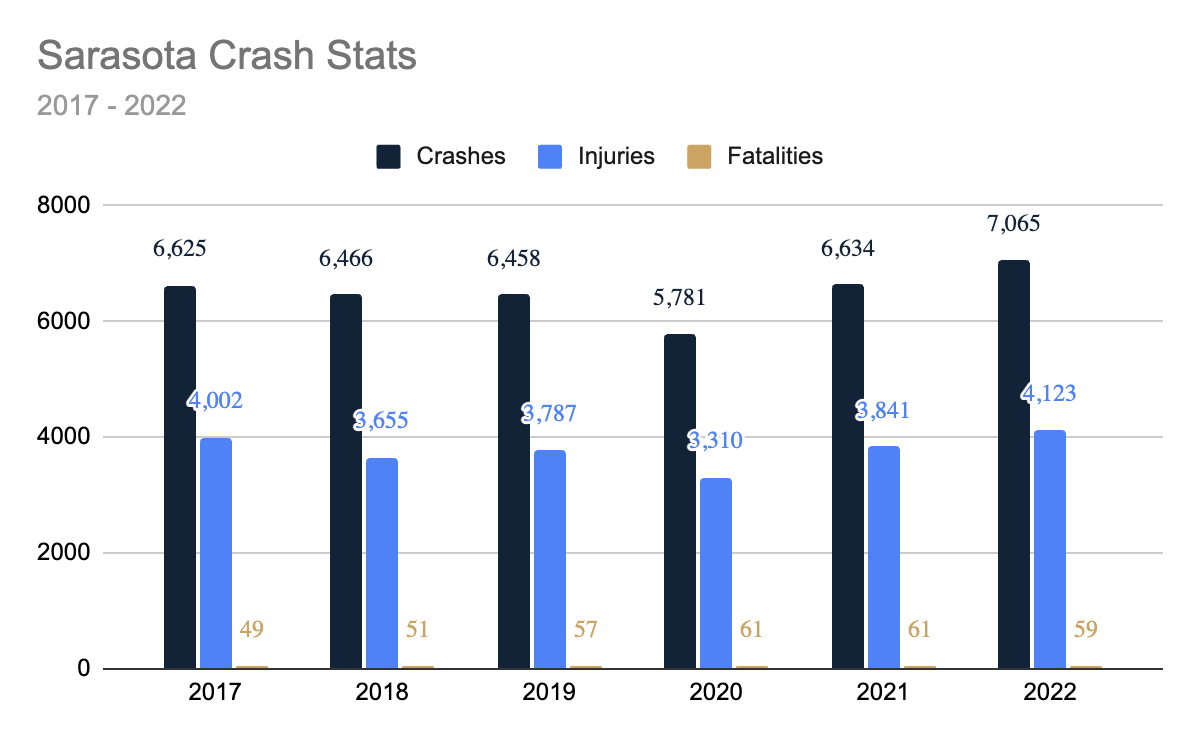 From 2017 to 2022, the crash statistics in Sarasota reveal some notable trends. The data shows fluctuating patterns in total crashes, reaching its peak in 2022 with 7,065, ranging from a low of 5,781 crashes in 2020. This represents an increase of approximately 22.16% in crashes from 2020 to 2022. The overall number of crashes from 2017 to 2022 was 39,029.
The number of fatalities showed a slight upward trend, with a peak of 61 fatalities in both 2020 and 2021. This marks an increase of approximately 24.49% in fatalities from 2017 to 2021. The total number of fatalities over the six-year period was 338.
In contrast, the total injuries resulting from crashes remained relatively stable, with the highest number of injuries reported in 2022 at 4,123. This indicates a moderate increase of approximately 3.49% in injuries from 2017 to 2022. The overall number of injuries from 2017 to 2022 was 22,718.
The information from 2017 to 2022 highlights the distribution of outcomes in traffic crashes in Sarasota. During this period, nearly 1% of all crashes resulted in fatality. In terms of injuries, approximately 58% of all reported crashes led to injuries. Remarkably, around 41% of the crashes recorded from 2017 to 2022 did not result in injuries. Safeguarding against accidents and ensuring no harm occurs on the roads should remain a priority for all road users.
Common Causes of Car Accidents in Sarasota
Percentage-wise, car accidents in Sarasota are higher than the average accident rate in the state of Florida which saw 401,540 car accidents in 2021. The most common causes of car accidents in Sarasota include:
Tailgating
Distracted driving
Speeding
Intoxicated driving
Lane departures and unsafe lane changes
Failure to yield
Speeding and aggressive driving
Running through traffic signals and stop signs at intersections
Accident types in Florida include rear-end collisions, Head-on collisions, T-bone accidents, rollovers, and sideswipe accidents.
Impaired Driving
The impaired driving statistics for Sarasota from 2017 to 2022 reveal crucial insights into the impact of alcohol and drug-related incidents on road safety.
Alcohol Confirm Crashes:
The data indicates that alcohol-confirmed crashes fluctuated over the years:
Peaking in 2018 with 144 incidents
Totaling 833 crashes over the entire period
Fatalities peaked at 13 in 2020
Total of 48 fatalities from 2017 to 2022
78 injuries in both 2021 and 2022
Total of 414 injuries from 2017 to 2022
Drug-Confirmed Crashes:
On the other hand, drug-confirmed crashes remained relatively low
4 to 8 incidents each year
Total of 38 crashes
Lowest fatalities recorded in 2020 at 4
Total of 30 fatalities from 2017 to 2022.
Injuries peaked at 11 in 2018
Total of 29 injuries
Combined Drug and Alcohol-Confirmed Crashes:
Additionally, combined drug and alcohol-confirmed incidents occurred at a lower frequency, resulting in:
35 crashes,
34 fatalities
23 injuries.
2017 to 2022 total amounted to 1,484,
The data highlights the continued importance of awareness campaigns, enforcement, and community initiatives to address and reduce impaired driving on Sarasota's roads. Efforts to tackle this issue remain essential to ensure the safety and well-being of all road users in the area.
Traffic Congestion in Sarasota
Sarasota is nestled on Florida's southwestern coast about an hour's drive south from Tampa. Sarasota covers nearly 26 square miles and includes iconic island beach destinations like Siesta Key and Longboat Key. It's also home to nearly 60,000 residents going about their daily driving routines to work and school leading to traffic congestion when combined with visitors and passing tourists. An estimated 78,000 to 133,000 vehicles travel the roads of Sarasota County daily.
Several major roadways converge in Sarasota, including I-75, U.S. Route 301, and U.S. Route 41. According to the Sarasota County Sheriff's Office, The most congested roadways in Sarasota County include:
U.S. 41
U.S. 301
Cattleman Road
Bee Bridge Road
Fruitville Road
Stickney Point Road
Traffic congestion on these roadways peaks during the winter when the state's "snowbirds" maximize the number of residents and visitors traveling the roads in Sarasota.
Dangerous Intersections in Sarasota
Sarasota compiles data on vehicle crashes and traffic citations to identify the county's most dangerous intersections. Most major intersections with traffic lights include traffic cameras that capture speeders, drivers who disregard traffic lights, and accidents. Data shows the following intersections as the most dangerous in Sarasota:
Fruitville Road and Lockwood Ridge Road
U.S. 301, 17th Street, and Washington Boulevard
Tamiami Trail, Bee Ridge Road, and U.S. 41
Tamiami Trail, U.S. 44, and University Parkway
Tamiami Trail, U.S. 41, and Bahia Vista Street
Tamiami Trail, U.S. 41, and Siesta Drive
Fruitville Road and Tuttle Avenue
Tuttle Avenue and Bahia Vista Street
Beneva Road and Fruitville Road
Though these dangerous intersections have traffic cameras to record data, the Sarasota Sheriff's Department warns that many accidents also occur at intersections without traffic lights and traffic cameras.
Why Does Florida Have a Higher-Than-Average Pedestrian Accident Rate?
Florida is the second deadliest state for crashes involving pedestrians with 5,800 pedestrian traffic fatalities between 2010 and 2020. Sadly, Florida has one of the country's highest pedestrian and bicycle accident rates due to the year-round warm climate which encourages more outdoor activities like walking, bike-riding, and motorcycling compared to cold-weather states. Congested urban areas have the highest rate of pedestrian deaths, including in Sarasota.
Pedestrian accidents in Sarasota commonly occur due to the following:
Distracted driving
Speeding
Failing to yield to pedestrians in a crosswalk
Failure to signal a turn
Intoxicated driving
Unsafe driving in wet weather conditions
When a collision occurs between a vehicle weighing an average of 4,000 pounds and an unprotected pedestrian or cyclist, the results are often catastrophic.
What Does Florida's No-Fault Accident Insurance Law Mean for Accident Victims?
Florida is one of 12 no-fault accident insurance states. In Sarasota and throughout Florida, accident victims must file an insurance claim against their own car insurance policy regardless of who was at fault in the accident. The state requires all Florida drivers to carry at least $10,000 in personal injury liability insurance. Fortunately, Florida also allows those who suffer serious injuries in a car accident to file a liability claim outside of the state's no-fault insurance system. Serious injuries include those that lead to permanent injury, disability, disfigurement, or loss of limb.
Typically, if injuries from a car accident exceed $10,000 in medical costs, accident victims in Florida may file liability claims against a driver at fault for the accident.
Sarasota Car Accident Initiatives
Sarasota is known for its calm gulf water beaches and magnificent sunsets as well as its thriving cultural museums and performing arts centers. It's a popular destination for retirees, students, and young families as well as home to commercial and sport fishing industries. To increase the safety of Sarasota citizens and visitors to the iconic beach town, several traffic initiatives are in place seeking to lower the number of accidents the region sees each year including the Intersection Safety Program and the High Visibility Enforcement Program for pedestrians and cyclists.
Seeking Compensation After Your Sarasota Car Accident
Seeking Compensation After a Car Accident can be a daunting and complex process, especially when dealing with injuries, property damage, and insurance companies. In such challenging times, Shapiro | Delgado | Hofmann Sarasota car accident lawyers are here to help ease your burden. With over 100 years of combined legal experience we are determined to get you the justice you deserve. Contact us online or call (941) 954-4000.