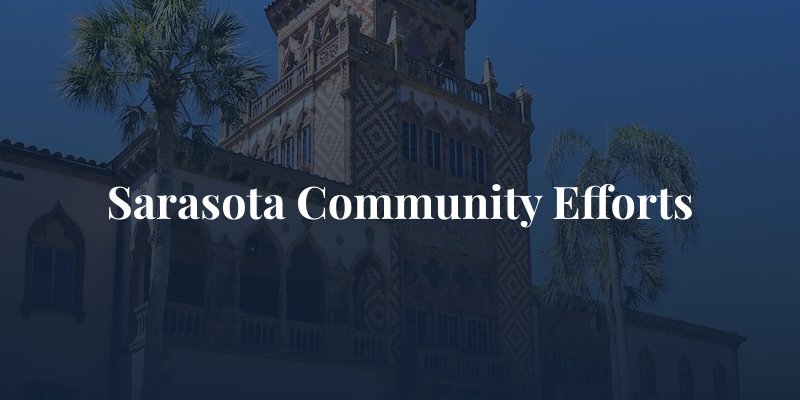 Sarasota is a beautiful, beachy Florida city filled with cultural institutes and colleges as well as miles and miles of sugar-sand coastlines, swaying palm trees, and access to Florida's sun-drenched Key islands. But with a growing population and the combination of Sarasota's elderly retiree drivers, visiting tourists, and inexperienced student drivers, the region has seen a steady rise in car accidents. In 2022 alone, there were over 7,000 crashes reported within the county with 59 fatalities and 4,123 injuries. There were also 178 pedestrian accidents reported.
With Sarasota ranking in the top 25 Florida counties for car accidents involving pedestrians and cyclists, the Sarasota County Sheriff's Office and Police Department are leading important initiatives to combat rising traffic accident numbers with community engagement efforts, a High Visibility Enforcement initiative, and an intersection safety program with red light cameras and violation detection systems.
Sarasota's High Visibility Enforcement Effort
In an effort to protect Sarasota's pedestrians and bicyclists from rising accident numbers, the Sarasota County Sheriff's Office implemented its High Visibility Enforcement (HVE) Effort. This initiative receives funding through contracts with the University of North Florida and the Institute of Police Technology and Management (IPTM) and partners with the state's Department of Transportation. The goal of the initiative is to increase community awareness and compliance with crucial traffic laws aimed at protecting vulnerable pedestrians and cyclists. Warnings and citations combine with efforts aimed at improving traffic control in the busiest intersections and other congested locations throughout Sarasota.
Sarasota's Intersection Safety Program
Drivers who run red lights due to recklessness, distraction, or intoxication cause hundreds of deaths and thousands of injuries each year, including in the city of Sarasota. The Sarasota Police Department installed red light cameras with violation detection systems at 20 busy intersections within the city. RedSpeed USA provides the city's automated traffic light enforcement system's installation and maintenance. It also processes the violations captured on camera. Violations include:
Running a red light by proceeding past the white line after the light has changed to red
Making an unsafe right turn on red into oncoming traffic
Turning right at red light marked with "No Right on Red" signs
Violators must pay fines through tickets they receive in the mail and also accumulate points against their driving records.
The Sarasota Teen Driver Challenge Program
The Sarasota Sheriff's Department offers parents a way to promote traffic safety while protecting their own children's safety through the Teen Driver Challenge Program. This program allows student drivers hands-on-the-wheel driving experiences under the supervision of the Sheriff's Department so they gain experience in real-world situations. Participating students must have a valid learner's permit. The Sheriff's Department provides practice vehicles for those without their own cars to drive during the program. Students who complete the program receive certificates that can help lower their insurance premium rates when they obtain their driver's licenses. The Sheriff's Department provides lunches for this all-day training event.
Senior Safe Driving in Sarasota
Sarasota Memorial Hospital offers a program to assess a senior citizen's driving capability and provide rehabilitation to improve driving skills for drivers of advanced ages. The program features evaluations from occupational therapists with certifications for evaluating driving ability. With a physician's referral, seniors can practice skills behind the wheel including in challenging real-life situations with tips and safety lessons. The program also offers adaptive equipment for seniors. The program includes tests for visual perception, reaction time, and physical skills related to driving.
Sarasota Police Department's "Tweet From the Beat"
For those who follow social media, the Sarasota Police Department's Tweet From the Beat initiative allows followers to engage in a virtual ride-along with officers on the beat during dates announced throughout the year. During the department's "Traffic Tip Tuesday" edition, the ride-along focuses on counteracting speeders, distracted drivers, and Florida's "Move over law" which compels drivers to change lanes to allow greater distance between vehicles stopped on the roadside, including officers engaged in traffic citations and accident assessments.
A Note from Shapiro | Delgado | Hofmann
At Shapiro | Delgado | Hofmann, we share the vision of making Sarasota an even safer place for all residents and visitors. As dedicated personal injury attorneys in Sarasota, we are committed to offering our expertise to those affected by accidents and advocating for their rights. We wholeheartedly encourage the community to remain vigilant and exercise extra caution when navigating the roads. By working together and adhering to traffic rules and safety measures, we can collectively contribute to maintaining the beauty, vitality, and safety of Sarasota, ensuring that it remains a wonderful place to live and explore in the Sunshine State. Your safety matters to us, and we're here to support you every step of the way.