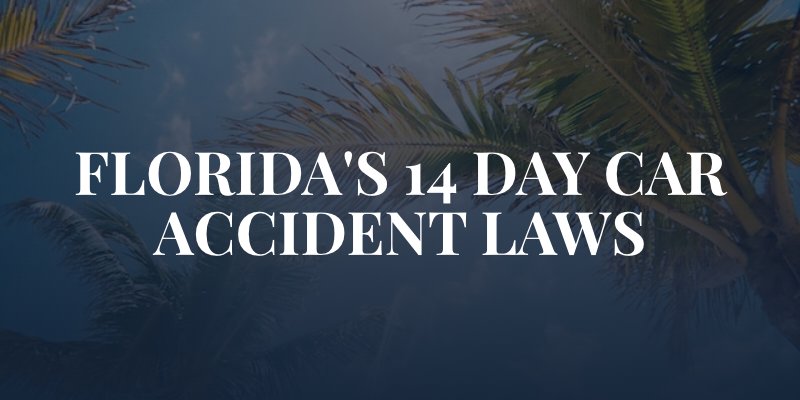 Florida's 14-Day Accident Law can be confusing, but there is a simple way to alleviate any worries about complying with the state's strict accident requirement. If you have questions or concerns about Florida's 14-Day Accident Law and how to avoid its consequences, read the following.
For more information about filing a Florida car accident claim, call an experienced car accident attorney in Sarasota and Bradenton.
Florida's 14-Day Accident Law
Car accident victims in Florida have 14 days to seek medical care if they wish to file a claim against their Personal Injury Protection (PIP) insurance policy. Policyholders who fail to get treatment within two weeks of an accident may have their PIP claims denied.
What is PIP?
Personal Injury Protection is also called no-fault insurance. Florida vehicle owners are required to carry a minimum of $10,000 in PIP.
PIP covers up to 80% of any accident-related medical bills and includes coverage for:
Emergency treatment;
Assistive devices;
Follow-up care;
Medication; and
Disability.
PIP also has a death benefit of up to $5,000 if a policyholder does not survive a car accident. There are some losses PIP does not cover such as property damage, pain and suffering, and mental and emotional trauma.
Qualifying for PIP
To receive PIP, an accident victim must receive medical care within 14 days from a qualified healthcare provider. Qualified healthcare providers include but are not limited to:
A family doctor;
A dentist;
An emergency room doctor;
An emergency medical technician; or
A chiropractor.
Not all providers meet statutory criteria for benefits. For questions about providers, contact your insurance company or speak with a car accident attorney.
Non-Emergency Medical Conditions Vs. Emergency Medical Conditions and PIP
There may be limits on the amount of coverage available in a PIP insurance claim. In non-emergency medical conditions, an accident victim may be limited to $2,500 in PIP coverage.
In an emergency medical condition, a full claim payout may apply. An emergency medical condition requires immediate attention to prevent:
Endangering a victim's health and well-being;
The impairment of a major body function; or
The serious dysfunction of any organ or body part.
A medical doctor can determine whether an accident victim suffered an emergency medical condition.
Ensuring PIP Coverage
The best way to ensure PIP coverage is to adhere to Florida's 14-Day Accident Law. Get immediate medical care following any car accident.
Getting medical attention right away will protect your legal rights to PIP coverage and keep any accident-related conditions from worsening.
If your insurance provider refuses or balks at paying your PIP claim, contact an experienced Sarasota car accident attorney for assistance.
Contact an Experienced Sarasota Car Accident Attorney Today
No one should have to fight for compensation that they have paid for and are entitled to receive. If you are having difficulties with your insurer, contact the experienced car accident attorneys at Shapiro l Delgado l Hofmann.
At Shapiro l Delgado l Hofmann, we will protect and defend your rights as a Florida insurance policyholder. We will also ensure you receive the compensation needed to pay for your medical expenses, lost wages, and other accident-related losses.
Call Shapiro l Delgado l Hofmann at (941) 954-4000 or fill out our online form today to schedule your complimentary consultation!